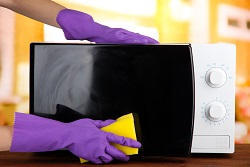 1. They can help you do the jobs that you hate - If you hate cleaning the oven or doing a full carpet clean, a cleaning agency may be exactly what you are looking for. Cleaners will help you in your home by carrying out the jobs that you hate doing the most as you can tell them what you would like them to do for you. On top of this, they will not give a half hearted effort to those kind of jobs like you might do as they are paid to do them and want to ensure that you as their boss is happy with the job that they do. Hiring in a cleaning service ensures that your home will be cleaned to the best quality, no matter how you feel as the jobs will not be put off for another day.

2. Can help if you're struggling or have other commitments - No matter what you are struggling with, cleaning shouldn't be another thing that you are worried about. Whether you have a very busy job, a big family, or some other circumstances going on in your life, cleaners and professional cleaning services can help to give you one less stress and one less thing to worry about. It is amazing how much just not having to think about cleaning will help you to relax and sleep easier, and plus it will give you much more time to focus on the big and important things that you need to be focusing on instead. After all, cleaning is just cleaning and should never be a huge source of stress in anyone's life.

3. Useful if you are planning on letting out your home - domestic cleaning services can be a big help to you if you are landlord and own rented properties. Many cleaning companies will do an end of lease cleaning service which will help you to get your property ready for viewings or for the next lot of tenants which will be moving in. It means that you don't have to worry about cleaning up yourself and can be incredibly useful if you are managing a few properties as you know that professionals will go into the residency and that a top quality clean will be carried out to your satisfaction, taking a weight off your mind.

4. Can help after having builders or DIY work done - builders are known for leaving a lot of mess after they have carried out work in your home, and this is just another situation where cleaning services can be extremely helpful. You've already spent money getting your home made perfect, so you deserve to have the perfect clean too. After all the work, you may just want to relax and enjoy your new home, rather than having to spend hours and hours cleaning, so bringing in outside help means that your cleaning can be done when you are out and you are free to enjoy your newly refurbished and clean home, it sound like a winning situation!

There are so many different ways that cleaners can help in your home, and these are just a few of the ways that you might find their services helpful to you. For more on what cleaning agencies can do for you or for more on the services listed above, research online and see how much easier cleaning services can make your life.


You may also like: